September 12, 2014
September 10, 2014
"It's never, never, never the woman's fault. No man has a right to raise a hand to a woman. No means no. […] The one regret I have is we call it domestic violence as if it's a domesticated cat. It is the most vicious form of violence there is, because not only the physical scars are left, the psychological scars that are left. This whole culture for so long has put the onus on the woman. What were you wearing? What did you say? What did you do to provoke? That is never the appropriate question."
—
Joe Biden on Today this morning (h/t Joy)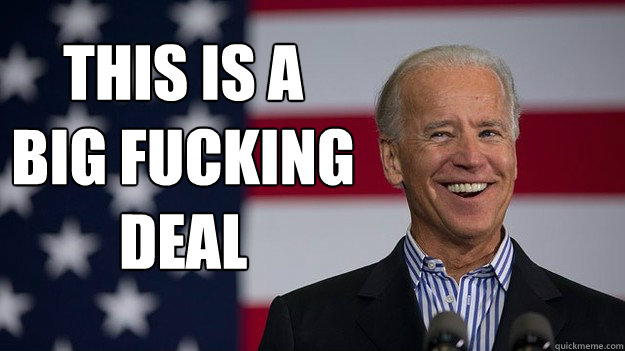 (Source: fullcredit, via the-cimmerians)
September 3, 2014
justasmallbloginabigklainefandom:

Erryday I'm rebloggin

Sometimes, I hate the rule

Aww haha you know, you don't have to reblog every time.

yes you do

Man, I haven't reblogged this in a while.

think we can get this to a 1 million notes before season 6?
(Source: angryladies, via zavocado)
August 27, 2014
this is literally the greatest subtitling job that has ever been done. someone learned how to speak cat.

*laughs irl*
(Source: iraffiruse, via zavocado)
August 14, 2014
chuck_criss: The newest love of my life, my baby daughter Rosemary Criss
(Source: mypatronusisklaine, via zavocado)
August 9, 2014
This is how kids reacted when they were shown same-sex marriage proposal videos. Kids these days. 

"how will we explain homosexuality to our children" I think maybe they should explain it to you

forever reblog
(via animateglee)
August 6, 2014
Klaine - Box Scene

Proposing a new fandom challenge—we got their first kiss to 300k notes, now let's give this gem the same treatment.  Yes?  Do your civic Klainer duty!

THERE ARE MOTHERFUCKING TEARS ROLLING DOWN MY MOTHERFUCKING FACE

FOR KLAINE. FOR GLORY. FOR THE EXPLODED BITS OF MY HEART SPATTERING THE ROOM.

Can we get this to 45,000 by filming in September?

Come on it's only 6,000 reblogs you guys. WE CAN DO THIS
(Source: musikillmoved, via animateglee)
July 29, 2014
(Source: denisesparks, via the-cimmerians)
July 23, 2014
Let's see how big the Glee fandom is!
Reblog this post if you're a gleek!
(via animateglee)
July 17, 2014
So this might be the most adorable thing I've ever seen.
(via adiwriting)